People Of Clay
(2016 - 2018 )


"I am a woman made of clay, l sing songs for the soil, I mix with common people because I know without them society cannot survive. What is society? - Well dressed, sweet vocabulary and outward courtesy. I do not follow these rules. I sing songs of the people who have no methodical culture. Those are our folk songs."
— Pratima Pandey

People of Clay is slow wandering along the river Brahmaputra, a self-conscious act of reminiscence on the region of Goalpara, in India's North East. The river and land inspired folksongs and legends; people's song of floods, love and elephants and in turn these simple melodies inspired this selection. They reflect interstitial identity of Goalpara, a land where Bengali dissolves slightly into Assamese or is it the other way round. Their language a bridge which has words from both but is neither. Meandering senes by banks of the river, of in-between people, with their in-between identity who to avoid confusion just call themselves Deshi or simply 'of the land'. May be it is this meeting of cultures that gives birth to song, myth and legend or are they just remnants of old that refuse to be written out of the people's collective psyche.



A blind bard on learning my name recites a couplet by sufi saint Azan Fakir "
Hindu ki Mussalman, eke Allar forman
" - "Be Hindu or Muslim, we are all creatures in God's form." He proceeds to recite a Bangla folk saying "
Nana boron gabhi re tar eka boron dhut. Jagat vormia dhaklan eke mayer put.
" - "Just as cow of different coats give the same milk - We are all children of one mother."
Closeby a home made weather vane stands as a kinetic sculpture
Lower Assam is a veritable water world, flood fed beels (lakes) interconnected by dongs (man made canals) to the intricate river system feeding, lush paddy fields. & then there are the Pukhuris, community ponds used both fisheries and as daily source of water. As they say in goalparia, "pube has, poschime bas, uttare gua, dokhine dua" - "
Ducks to the east, Bamboo to the west, Betel nuts to the north and open to the south.
"
The lands of the Goalpariya people were bifurcated between the formed colonial borders of Assam and Bengal. The people, clutching at the remains of their folk culture within these boundaries,
while slowly drifting into amnesia. At this time, like a folktale unravelling,
Pratima Barua-Pandey
, the Princess of the Gauripur, abandoned her education to take up collecting and singing the songs of her people. Popularized through early Assamese cinema, the folk universe through her, coaxed out lost legacies of identity from the recesses of communal memory.
Like an inland the sea, the river mesmerises even old eyes. Men walking up to the edge and staring into his (Brahmaputra is personified as male) expanse. The river is unforgiving and often changes course, so the people who are dearest to him alway live in fear.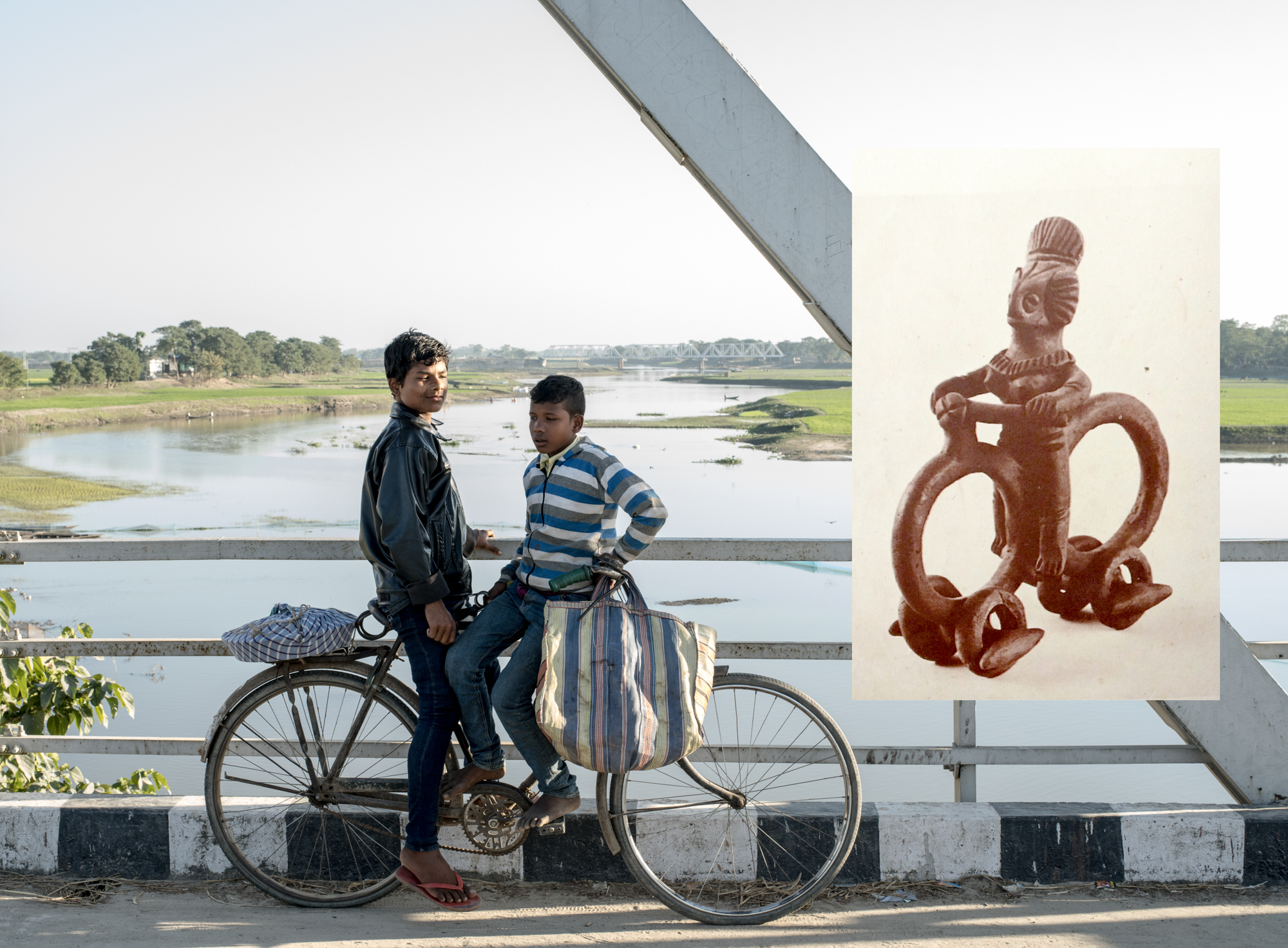 The Pal hand's have shaped the dark clay of the Gadadhar river into little toy figurines, since the very inception of this agricultural magic. Unburnt terracotta rich in ancient symbolism. Hatim dolls, their signature earth call upon the mother and child. Even the most archaic motifs are subject to change, a man on two wheels stands next to his older counterparts on horses and elephants. (Direndranath Pal's man on two wheels inset into photography of two boys on a cycle on a bridge over the Gadadhar.)



Boys play at the edges of a precipice


Sun seems to paint a golden hallow around the tree line now. It is time to head back, we meet this man with the saddest eyes.
"
Ek baar hori bolo mon rosona,
arey manob dehai goirob koiro na,
manob deha maatiro bhando,
bhangile hoibe khondo re khondo
."
-
"Say the name of God just once
My friend, take no pride in the mortal body
The human body is a pitcher of clay
When it breaks it shall shatter into thousands of pieces."
Oh water hyacinth, how did you get so far - from your home in the Amazon? Exchanging one basin for another with your little purple flowers.

"What are folksongs for?" she said "They are to remind you, to ground you. They get into your head and pop up at odd moments. They keep you company. They take you back to another time or another place, and they drift through your mind when you're still. They're like prayers, like road maps of a people."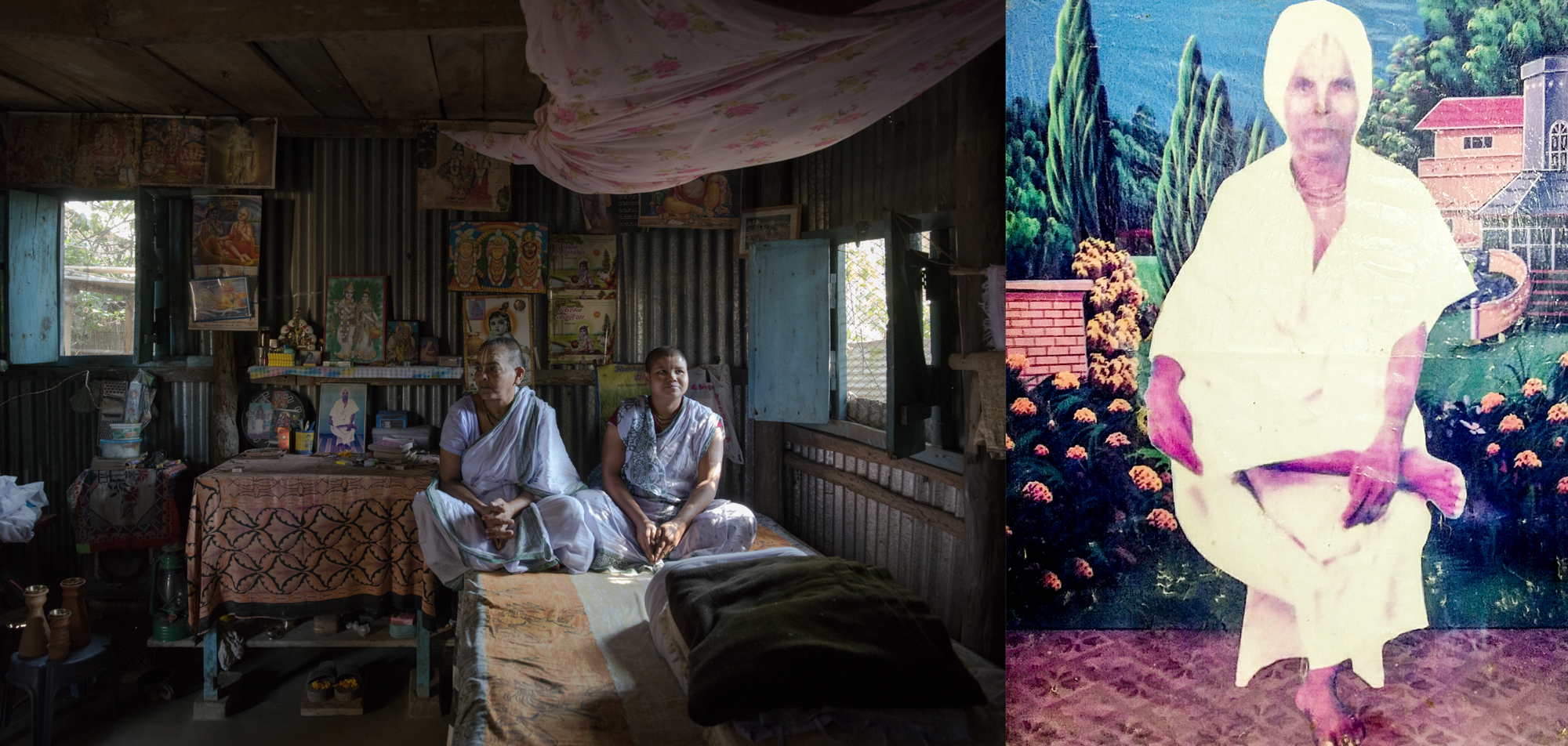 Behula
pushes away some hyacinth from the body of her dead husband Lakshmindara. It is a custom that anyone who has fallen to a snakebite is to be set afloat on the river. She refused to leave his side, and no one could dissuade her from this strange resolve. '
Either I shall die with him or he will come to life and I shall be beside him when he does.
' The raft floats down stream, passing hamlet after hamlet, she remains unmoving and unperturbed as the corpse begins to swell and putrefy. Passing villagers assumed her mad, but Behula kept praying to
Manasa
; and godess responded by ensuring the raft survived storm, whirlpool and crocodiles.
A dotara, the simple plucking of this two stringed instrument of simple construction. Lightness is deceptive when the cords find harmony between the adventurous, picaresque inner rhythms. Favoured by wandering minstrels that sing of the frantic spectacle of the world. We all know the beating heart is beginning of all music. The words of Pratima Pandey, the collector of the People's songs seem to say it best, "
I am a woman made of clay, l sing songs for the soil, I mix with common people because I know without them society cannot survive. What is society? - Well dressed, sweet vocabulary and outward courtesy. I do not follow these rules. I sing songs of the people who have no methodical culture. Those are our folk songs
"
"I row my boat all night. I look around and find my boat is still in the same spot." - a
bhaitali
boatman's song.
I spend my evenings by the river in it's many forms.
The Ghost of Lenin haunts an abandoned bus
Salkocha House No. 2

"Cinderella dida, that is what I used to call her - I thought she was the most beautiful woman in the world" - Mrig
Surya Pahar
"Mountain of the Sun (God)" is a set ancient monolithic shrines. No image of the surya are to be found, but on the top of two boulders, set afloat on on an alter carved in the shape
Satadal Padma (a lotus with a hundred petals - see figure).
The shrines to the sun have fallen into oblivion, weekend spots for teenagers, while the sun continues to be an object of reverence for all friends of light.
I'm living the manifesto of being by myself. Snatches of language are thrown at me, most of which just lingers as I repeat them to myself in my head. I've picked up a little deshi (
olop
meaning little) and other phrases to entertain my hosts like when they ask me about why I'm taking pictures ? I answer philosophically,
Moi baat heralu -
I am lost. Just today on a shared tempo to Karbala next to Panchratna, I overheard an imagined translation of a conversation of two middle aged women.How they where sick of eating omelettes for all meals. To which the other replied with sarcasm why don't you eat mutton instead. The price of mutton
Oi Baba
! We have all become beggars having to eat eggs when we live by river full of fish. When the sun goes down a delirium sets in, my body seems to gives up from the day's hard travel as my mind tinkers on. I have a yearning to wake up at first light but I keep on missing it, as Gedney said Why am I so restless and unwilling to discipline myself ? May be I shouldn't sleep at all.
Pratima Barua Pandey collected and sang the many folk songs of the Mahouts. They fondly called her 'Hastir Kanya' 'The Daughter of Elephants' after one of her most famous songs. 'O mor hai hastir kanya re, khanika daya nai mahuter lagiya re' - a song about a women pushed out of society who took up living with a herd of elephants who crowned her their Queen. In Gauripur her hometown where the pukhuri (village pond) , cricket ground and library meet is a statue of her, sitting pensively as if to rehearse. A women in the foreground reflects the mood. A song plays in my head, the only English song in her repertoire - Huddie 'Leadbelly' Ledbetter's civil rights folk anthem, "We're in the same boat brother, / We're in the same boat brother,
And if you shake one end, / You gonna rock the other / It's the same boat brother"
A restaurant at the edge of the River in Dhubri, a favourite of crows. I arrived here on a slow bus from goalpara, the kind that will stop anywhere for anyone as long as you can pay the fare of a few ruppees. Robi-da, a friend of my late father-in-law Hamptee, picked my up at the bus station. We rode down street, with him announcing to anyone who would listen, "
Hamptee'r Jamai! Dhubri'r Jamai!
" - Hamptee's son-in-law, Dhubri's son-in-law. The ubiquitousness of small town welcomes
Early Morning Animals, Barra Bazar Goalpara
Early Evening river crossings, Dhubri
Temple of the bleeding Goddess. A forested hillock on the foothills of the Garo Hills serves as complex of
devi
(Goddess) shrines called Ai Than.Each year a fete is held to mark the yearly ritual. An act of worship during when the Devi is meant to have her period. This is marked by mask theatre, song and dance, as the Rabha give offerings of pigeons, goats and ducks. The animals are set free in the hillock, others given away to the faithful.
Folk theater performers at the festival sing a folk ballad
The Ojha, Basant Rabha, presides over the performance, narrating the dialogue in song. The rest of troupe act as vocal chorus and musical accompaniments. The masked players dance awkwardly under the weight of heavy wooden masks, all but silent.